Reusable face shields for our front line workers.
Toast is joining the fight against the Coronavirus Pandemic. We have
retooled our production to manufacture clear, plastic, reusable face
shields for those on the front line. We are selling these directly to clinics,
hospitals, and front line workers. High quality PPE made right here in
Portland, Oregon.
We have redesigned our face shields.
Working with feedback from users, our intrepid design team went back to the drawing board and redesigned the face shield to be lighter, cheaper and SUPER COMFORTABLE. With the reality being that our front line workers are having to work extremely long hours in their PPE, we designed a completely new forehead rest. The new, flexible, suspended rest comfortably adapts to the shape of the head and even has breather holes for all day comfort.
This new design still uses durable, sanitizable, and reusable PETG plastic and an adjustable elastic strap.
Not only is this design super comfortable, it is also 25% lighter, weighing in at only 2.5 ounces. It is also easier to manufacture, so we are able to drop the price to only $5 per shield in quantities of 50.
As always, we welcome feedback.
-Team Toast
Email us to purchase Face Shields
Purchasing is open to front line workers, health care, hospitals and people needing shields for work.
Thanks!
This field is required
This field is required
This field is required
This field is required
DONATIONS
Team Toast has been working hard to increase our capacity. We are now able to produce approximately 350 shields per day.
We are happy to announce that we can now start offering face shields for DONATION.
Individuals can purchase a small box of face shields (20 per box) and have them shipped directly to a hospital or clinic.
Please note: We will only ship these directly to a clinic, hospital or other frontline workers. On the form, there is a space to leave a note with your donation for the accepting clinic.
If you would like to purchase face shields for such a purpose, we have created a form you can use to place an order with us. We will follow up with a Paypal invoice to make the payment. Then we will ship your shields directly to your chosen clinic.
We are also taking single face shield donations that we ship weekly to a non-profit clinic or organization needing PPE.
You can pledge a single face shield to our weekly donation here.
Thank you for all that you are doing.
Stay safe and stay strong!
-Matias and the Toast Team
You can read about the motivation behind this work here: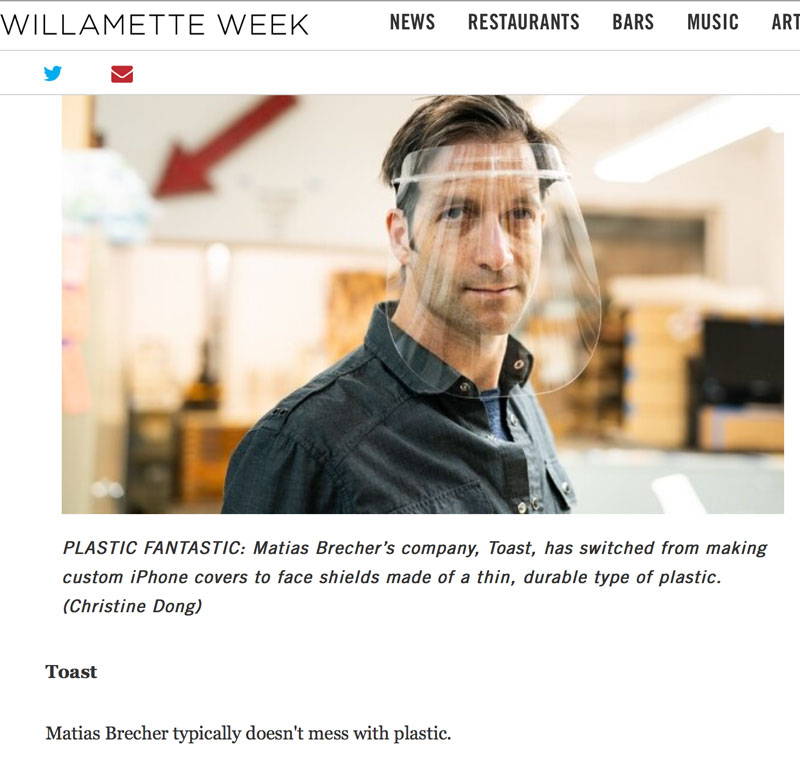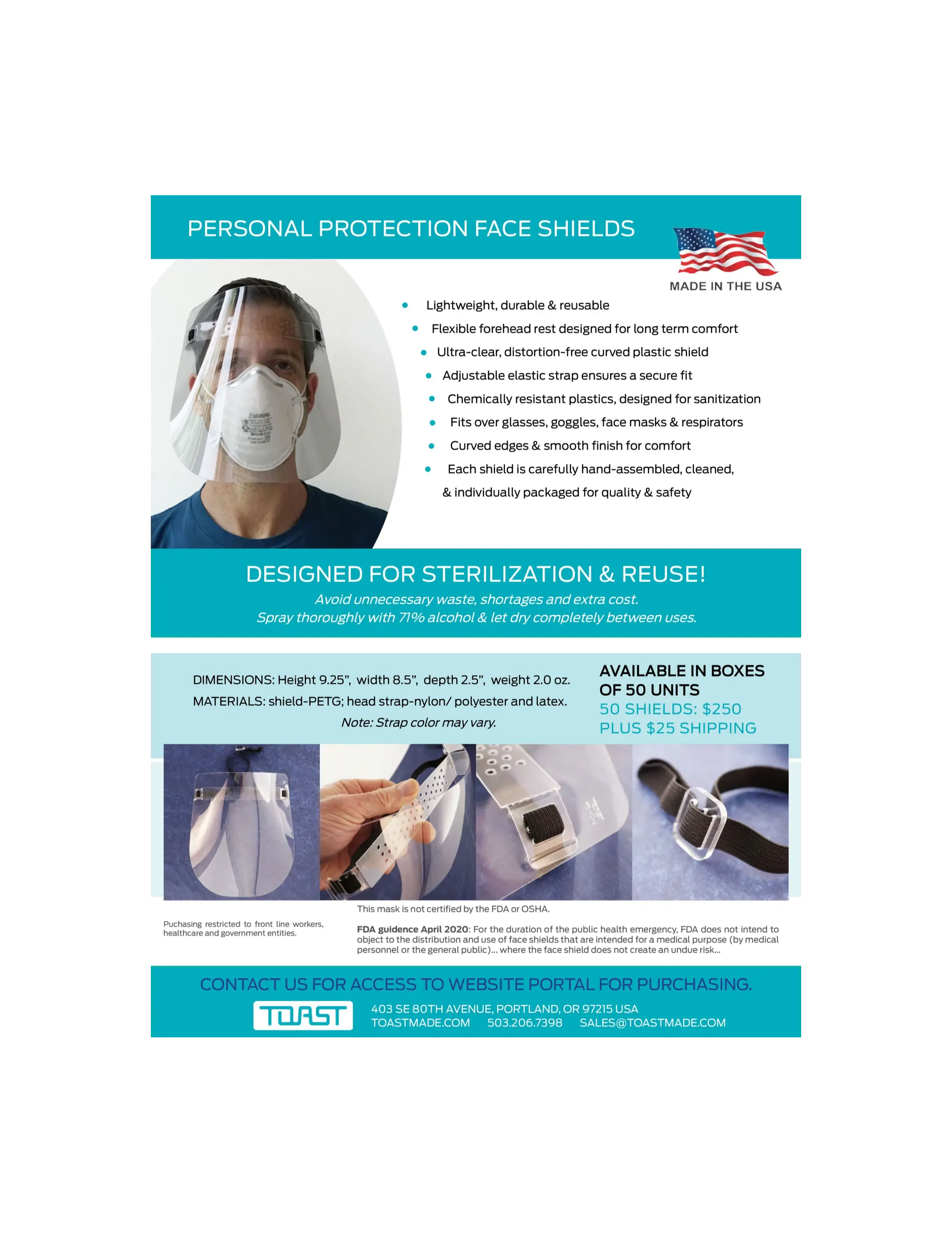 Production in full swing.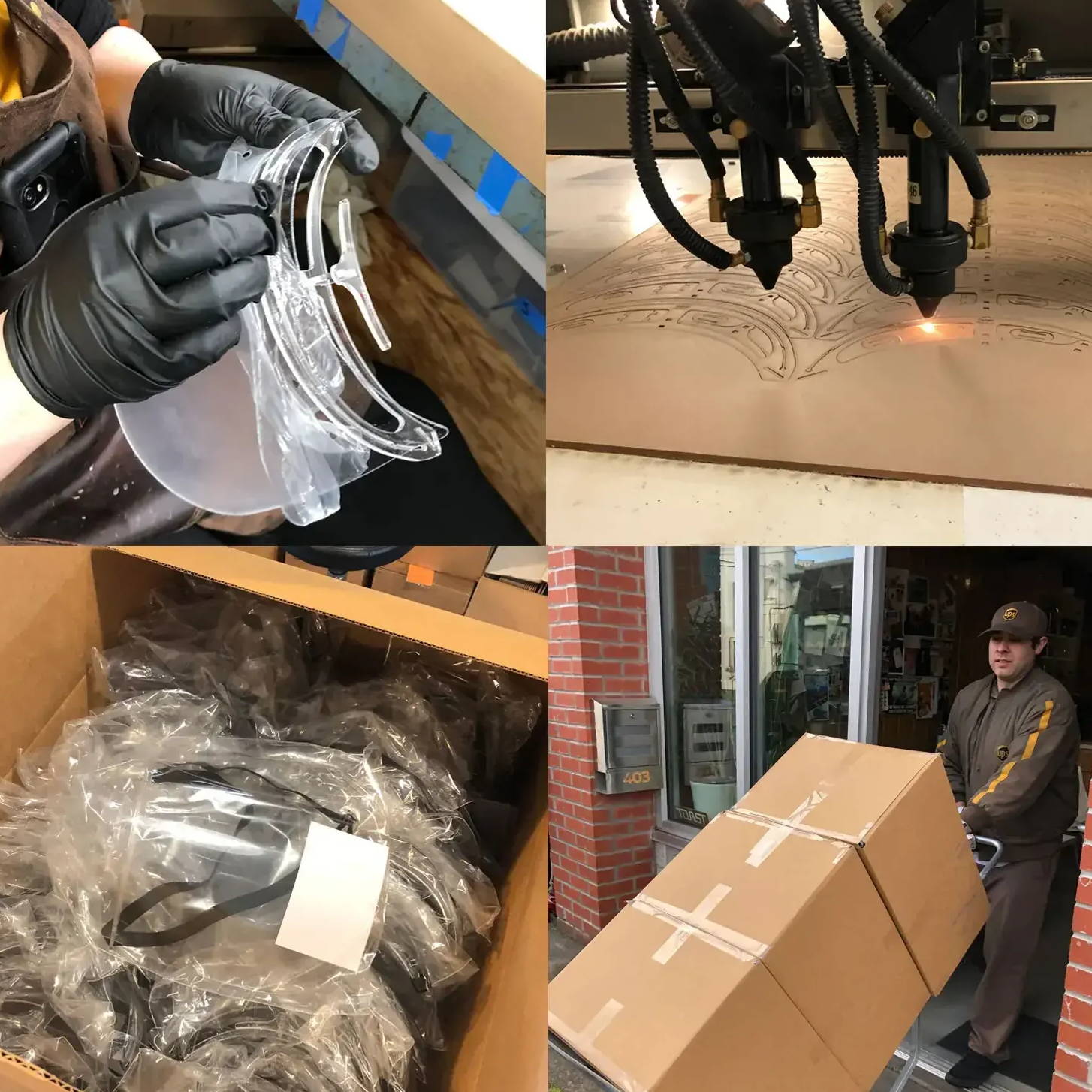 A few notes on FDA certification:
The FDA's most recent (April 2020) guidance can be found here: https://www.fda.gov/media/136449/download
Regarding the use of Face Shields intended for Medical Purpose:
"To help foster the availability of equipment that might offer some benefit to health care providers and the general public during the COVID-19 outbreak, for the duration of the public health emergency, FDA does not intend to object to the distribution and use of face shields that are intended for a medical purpose (whether used by medical personnel or the general public), without compliance with the following regulatory requirements where the face shield does not create an undue risk in light of the public health emergency..."
Then they list the requirement that the product includes:
1- Labeling of it as a face shield and list the body contacting materials.
2- The product does not contain materials that will cause flammability.
3- That the product is not intended for any use in a way that would create undue risk (no labeling of it as antiviral protection).
Our face shields qualify for these criteria and should be deemed acceptable use at this time.
We are a boutique manufacturer in Portland, Oregon trying to do our part to help
relieve the shortage of personal protective equipment needed on the front lines.
Purchasing is only open to health care facilities, hospitals, and government
agencies for now.
+1 (503) 206-7398
sales@toastmade.com
403 SE 80th Ave
Portland, OR 97215