Wrap your phone in a gorgeous cover of buttery, genuine leather that is 100% unique!
Toast covers are a cinch to apply: just peel, stick, adore!
Your customization options:
Laser etching

Laser cutouts of any shape, size, or complexity

Contrasting wood inlays

Translucent colored film inlays

Shiny metallic inlays

Anything else you can dream up (we like a challenge!)
Our graphic design team has an excellent eye and an expert knowledge of what our laser and production teams can do. They will work with you to make sure you get your design dialed in perfectly! It is our mission to impress and astonish.
Visit our Gallery Page to drool over endless examples of sweet custom covers we have crafted!
Here's how it works:
1. Upload your artwork file
2. We send you a high-resolution computer rendering of your design
3. We make any adjustments you need
4. You approve the final rendering
5. We craft your cover!
Artwork must be a high-resolution image or vector file in JPEG, PSD, PDF, or AI format. We accept any artwork you submit as your own art that you have appropriate permission to use.
Single custom covers typically take 3-5 days to create after rendering approval, with longer lead times possible on bulk orders.
Interested in multiple one-of-a-kind covers for your business, band, or blog? Just contact us and we'll be happy to provide you with a bulk-discounted quote customized to your needs.
Please note: Custom etchings that exceed 4 inches in height (regardless of width) will incur an extra fee depending on size and complexity. Additional charges for our amazing custom marquetry options (inlaid wood, metallic, or colored film pieces) are assessed on a per-piece basis based on size. Toast logo removal is also available for an extra fee. Our designers will provide you with an estimate of any additional fees with your computer rendering.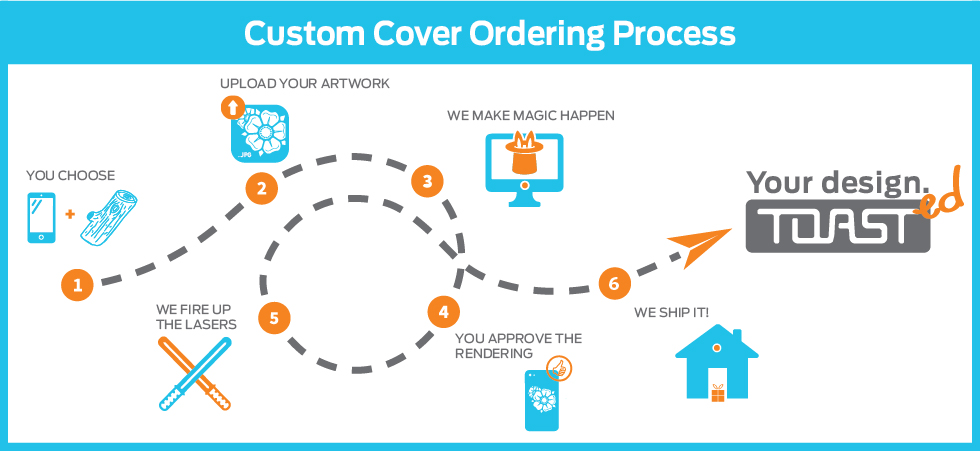 And then...brace yourself for the inevitable flood of compliments.
Available in 10 beautiful, saturated colors.
IMPORTANT NOTE: Natural variations in the color and texture of real leather hides mean that your Toast cover will be a one-of-a-kind! There are often natural differences between leather dye lots; also, different screens display colors differently, so the exact color and texture of the cover we make for you may vary from what you see in our product photos.
Please read these descriptions of our leather colors to make sure they match what you're hoping for (unfortunately, we cannot accept products returns or offer refunds if you don't end up liking the color you chose!):
Whiskey: a medium-toned, rich, classic caramel-toffee-butterscotch color.
Dark and Stormy: a deep, sooty, charcoal grey, so dark it's almost black.
Stout: the blackest black you've ever seen; black hole black.
Bluetini: a medium, strong, sophisticated, slightly greenish-teal blue.
Mojito: a warm, medium mossy green with a faint touch of olive.
Cherry Bomb: a deep, fire-engine red with a hint of crimson.
Cosmo: an eye-popping, super-bright, saturated, bubble gum pink!
Lemon Drop: a super-sunny, egg yolk-y, smiley face, rubber duckie yellow.
Moscow Mule: super-shiny, reflective, bright metallic copper, like a brand-new penny.
Prosecco: a warm, soft, bright aluminum silver with a muted shine.
Have any questions? Contact us and we'll help you out!
All Toast products are made to order and crafted by hand
in beautiful Portland, Oregon, U.S.A.
As a member of 1% For The Planet, we donate 1% of sales to environmental charities.
We also plant a tree through Trees For the Future for each product we make -
because we've only got one beautiful planet to share and we've got to do our part to take care of it.
Go forth and create awesomeness in the world!