Email us for bulk ordering.
Thanks!
This field is required
This field is required
This field is required
Price per shield includes DHL or UPS Ground shipping.
See bulk pricing discounts below.
Now Available for Everyone, Including Child Sizes!
Lightweight, comfortable and reusable face shield
Super comfortable flexible forehead rest. Designed for extended use.

Can be sanitized for repeated uses.

Designed to work over glasses, goggles, face masks and respirators.

Durable materials and construction.

Adjustable elastic head strap.

3 sizes available:

adult

child large (10-15 years old)

child small (5-10 years old)

No assembly required. Arrives ready to use!
Walk-in purchases now available at our studio in Portland, Oregon. Call with any questions 503-206-7398
Now order exactly the number and size you need!
Bulk pricing:
Price breaks at 6, 10, 20 and 50 pieces.
6+ are only $10 each
10+ are $8.50 each
20+ are $7.00 each
50+ are $5.50 each
*Price included standard domestic shipping with DHL or UPS Ground. Local pickup will be refunded the shipping costs.
International orders will be billed any additional shipping costs.
To order more than 50 you must email us. sales@toastmade.com
Expedited shipping is available.
Personal Protection Face Shield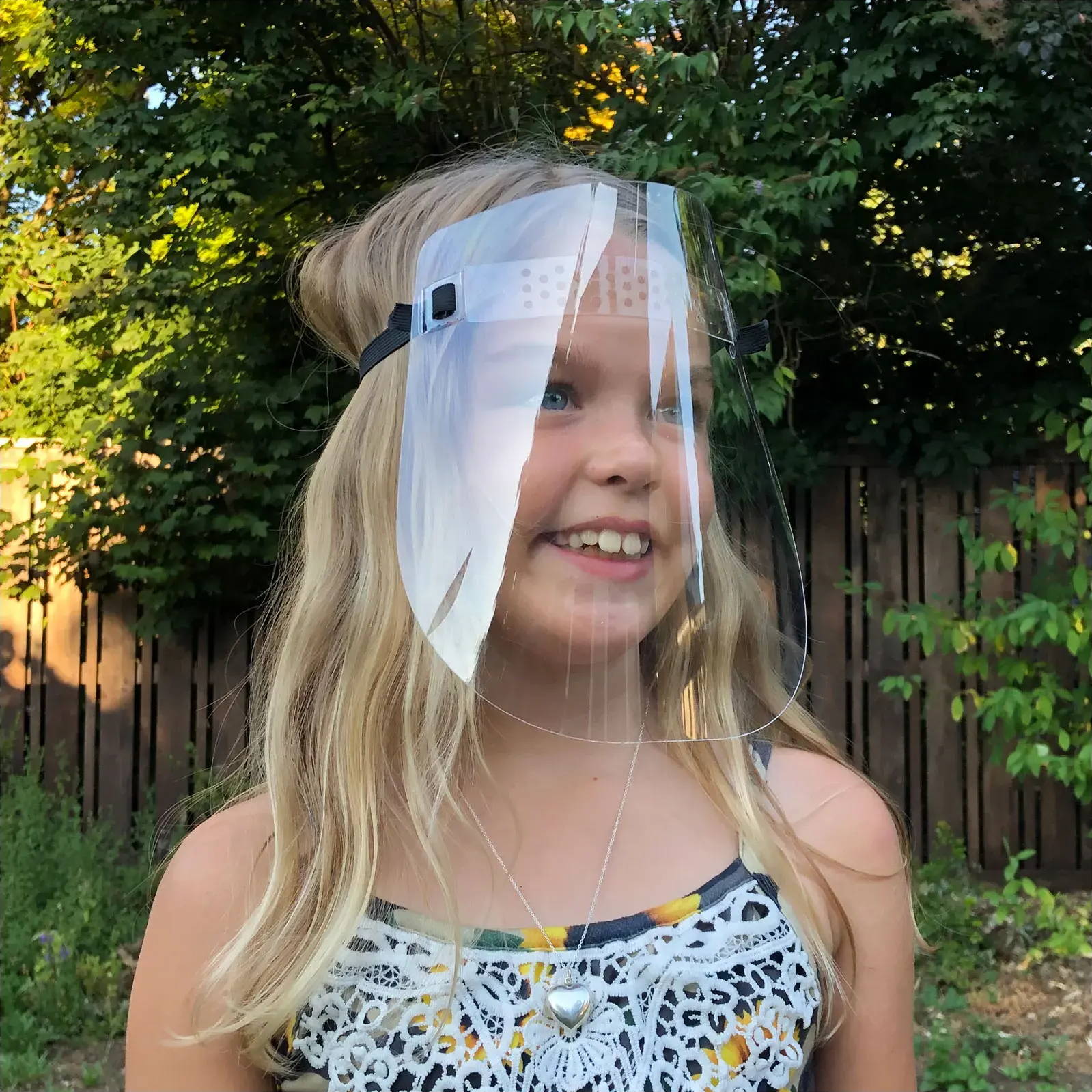 NEW CHILD SIZES AVAILABLE
With children going back to school we have created child sized face shields. Face shields are great in that they are less constricting and don't block the sight of our faces like masks do. This helps in verbal and non-verbal communication. Face shields also help protect the eyes and help keep people from touching their faces to reduce contact transmission from touching contaminated surfaces.
Child size large is designed for 10 to 15 year olds. This is relative sizing. So if they are approaching the size of an average adult, then purchase an adult sized shield.
Child size medium is designed for 5 to 10 year olds.
SPECIFICATIONS
Each unit is sanitized and individually poly-bagged.
Dimensions of each Face Shield:
Height: 9.25 inches
Width: 8.5 inches
Depth: 2.5 inches
Weight: 2.5 ounces
Materials: Shield and forehead rest are made of PETG, cinch is laser cut acrylic, with an elastic strap.
Recommended sanitization between uses: spray with alcohol (71%) and allow to dry. Strap color may vary.
Chemical Resistance: Highly resistant acrylic and PETG plastic components.
Availability: We will be releasing a week's worth of production for pre-ordering and shipping within one week of order. Please order only what you need immediately so that others may also get some.
PLEASE NOTE:
Toast is a small boutique manufacturer that has retooled to help fight coronavirus and protect our health care workers. We have tooled up quickly to meet an overwhelming shortage of PPE products. We have done everything possible in a short amount of time to make this mask long lasting, comfortable and washable.
Recent articles and studies are showing that face shields can be as effective as face masks in protecting the user from Covid-19. We can not claim that efficacy but here are some articles worth checking out:
Please note that this mask is not certified by FDA or OSHA.
A FEW NOTES ON FDA CERTIFICATION
The most recent FDA guidance on medical face shields allows these to be purchased for medical use. We are following the guidelines for labeling and material flammability. Each shield is individually labeled as required.
The FDA's most recent (April 2020) guidance can be found here: https://www.fda.gov/media/136449/download
Regarding the use of Face Shields intended for Medical Purpose:
"To help foster the availability of equipment that might offer some benefit to health care providers and the general public during the COVID-19 outbreak, for the duration of the public health emergency, FDA does not intend to object to the distribution and use of face shields that are intended for a medical purpose (whether used by medical personnel or the general public), without compliance with the following regulatory requirements where the face shield does not create an undue risk in light of the public health emergency..."
Then they list the requirement that the product includes:
1- Labeling of it as a face shield and list the body contacting materials.
2- The product does not contain materials that will cause flammability.
3- That the product is not intended for any use in a way that would create undue risk (no labeling of it as antiviral protection).
Our face shields qualify for these criteria and should be deemed acceptable use at this time.
Product warranty is limited to the guaranteed delivery of new, fully functioning product.
Adult - adjustable elastic will fit to any adult size head, with room for hats and head coverings.
Child Large - designed for 10-15 year olds, with adjustable elastic.
Child Medium - designed for 5-10 year olds, with adjustable elastic.
Because of the issues with contamination, we will not accept returns.