You are a rebel, an unapologetic original, a unique snowflake. You need a gadget cover that is 100% your own. Trust us, we get it. If you want to promote your business, give a unique gift, or just show off how badass you are, let your Toast do the talking. Send us your artwork or logo and we'll hook you up. Prepare to be flooded with compliments. Nice one, you maverick-y maverick, you!
IPad covers are available in walnut, bamboo, ebony and ash. Surface covers and Nexus 7 covers are available in walnut, ash and ebony.
What to do? That is the question! Etch it with lasers. Interpret your design in contrasting wood inlays for a modern marquetry masterpiece. Create detailed cutouts of any shape, and consider layering up shiny metallic inserts or translucent colored films behind them that will show through. The options are endless!
Here's the lowdown: upload your artwork file and we'll lay it up for you. Artwork must be a high-resolution image or vector file in JPEG, PSD, PDF, or AI format. We accept any artwork you submit as your own art that you have appropriate permission to use. We'll send you a high-resolution draft rendering for your final approval before crafting your covers. Single custom covers typically take 3-5 days to create, with longer lead times possible on bulk orders.
Interested in multiple one-of-a-kind covers for your band, blog, media company, or corporation? Check out our Custom Covers page for more details. Visit our Gallery Page to ogle endless mouthwatering pictures of custom covers we have created!
Please note: Custom etchings that exceed 4 inches in height (regardless of width) will incur an extra fee depending on size and complexity. Additional charges for our amazing custom marquetry options (inlaid wood, metallic, or colored film pieces) are assessed on a per-piece basis based on size. Toast logo removal is also available for an extra fee. Our designers will provide you with an estimate of any additional fees with your computer rendering.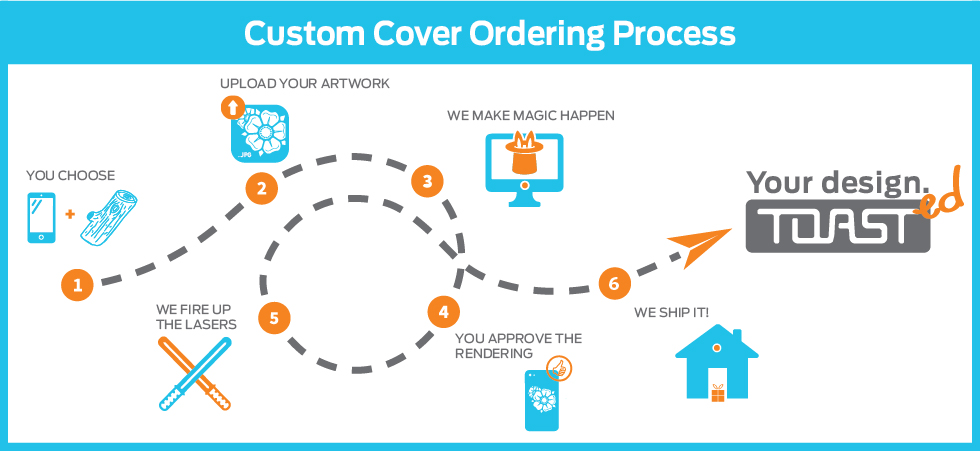 Have any questions? Give us a shout and we'll help you out!
Go forth and be epic!